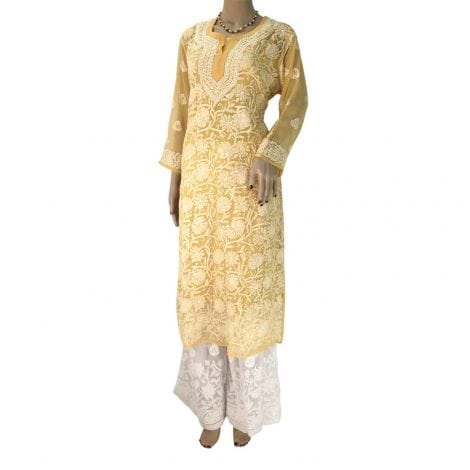 Beige Long Georgette Lucknowi Chikankari Kurti
Beige Long Georgette Lucknowi Kurti with intricate patterns in front of kurti. Hand Embroidery front and back with silk thread. Best paired with Palazzo or Dhothi Salwar or Churidar. Ideal for most occassions. This will need a Slip. Details: Colour: Beige Chest: 42 inches Length: 45 inches Sleeves: 3/4th sleeves, 18 inches Material: Georgette Work: […]
Only 1 left in stock
Avail 5% Discount by paying online
Beige Long Georgette Lucknowi Kurti with intricate patterns in front of kurti. Hand Embroidery front and back with silk thread.
Best paired with Palazzo or Dhothi Salwar or Churidar.
Ideal for most occassions. This will need a Slip.
Details:
Colour: Beige
Chest: 42 inches
Length: 45 inches
Sleeves: 3/4th sleeves, 18 inches
Material: Georgette
Work: Chikankari Hand Embroidery
Care: This is pre-washed. Preferably hand wash. Do not bleach. Digitally the actual colour may vary slightly from the photograph.